View Program
About Costa Rica
The phrase "pura vida" literally translated means "pure life," but its nuanced meaning of "living life to the fullest" is as rich and complex as the country itself. Costa Rica is one of the most bio-diverse and socially-diverse countries in the world. Teeming with life of every kind, Costa Rica is a land of vibrant natural wonder. Its warm and welcoming people and much of its wildlife and ecosystems are found nowhere else. Yet, in the same way that its diverse ecosystems coexist, there are people in great need living among those who have much. In these places of great need, ISL participates in volunteer work led by our Costa Rican staff.

A Brief Overview of Costa Rica
Costa Rica is a Central American country bordered by the Pacific Ocean, the Caribbean Sea, and the countries of Nicaragua, and Panama.  Costa Rica has become one of the most stable, democratic, prosperous, and progressive nations in Latin America. It permanently abolished its army in 1949, becoming the first of a very few sovereign nations without a standing army. In fact, one of Costa Rica's nicknames is "Switzerland of Latin America" because of its neutrality.  While Costa Rica is known for its coffee and tropical fruit exports, tourism is now the largest industry. Twenty-five percent of the country's land area is protected—one of the largest percentages in the world.
ISL Milestones in Costa Rica
1994 – While traveling, ISL's founding family witnessed displaced banana workers living in tents in Sarapiqui, Costa Rica.  Wanting to return and bring sustainable support to those in need, the idea for ISL emerged.
2010 – An ISL Physical Therapy program was implemented, a first in the history of ISL.
2011 – ISL Costa Rica, Marymount University DPT School, and Manos Abiertas Foundation signed a tri-party cooperation agreement to benefit the residents of Manos Abiertas.
2012 – ISL Costa Rica implemented a Chiropractic Program, a first in the history of ISL.
2014 – ISL Costa Rica implemented a Sports Medicine Program.
2015 – The University of Tennessee in Knoxville celebrated their 10th anniversary of traveling and serving with ISL in Costa Rica.
2015 – ISL Costa Rica hosted ISL Country Coordinators and US staff for a conference.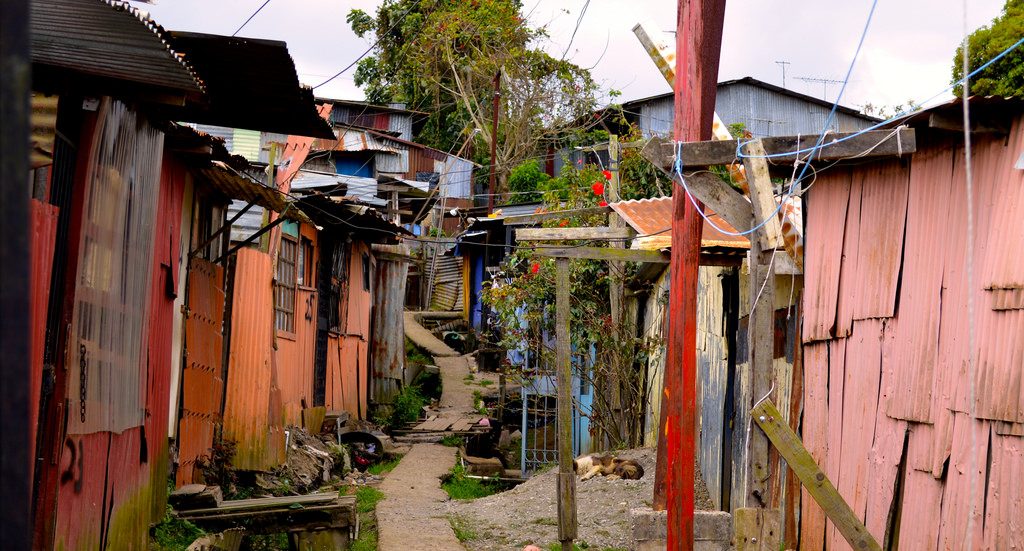 Where We Serve in Costa Rica
ISL works with Costa Rican and Nicaraguan populations within a variety of communities and organizations in Costa Rica.  ISL serves rural communities without easy access to urban conveniences and urban "precarios," where homes are constructed with non-permanent materials. We also serve in nursing homes, homes for disabled persons, and wildlife and environmental conservation centers.
ISL works in all seven provinces of Costa Rica. Many of our partner communities and organizations are located in the Great Metropolitan Areas (GAMs) in the capitals of Cartago, San Jose, Heredia, and Alajuela. Our Hike for Humanity program has been successful in bringing healthcare services to indigenous people in the provinces of Puntarenas and Limón.
The Need in Costa Rica
Costa Rica has a healthcare and social welfare system that, unfortunately, is overwhelmed with the needs of its people. The unemployment rate is very high and there is a large population of immigrants living in poverty. Public and private sector employees and self-employed people who contribute to the economy are the ones who benefit the most from the system. 
"My ISL trip to Costa Rica was a truly life-changing experience. Being able to learn about a country and their poorer areas is eye-opening and makes you truly appreciate what you have. By working with the wonderful communities, not only was I able to assist in providing medical care but was able to meet some amazing people. Part of my heart has been left in Costa Rica, and I will always fondly remember my time there. I am so grateful to ISL for providing me with this opportunity."

— Kelly H., Indiana University
Our Partnerships
As with any great work, it takes great relationships to get the job done. That's why ISL Costa Rica has partnered with nonprofits, NGOs, and governmental and religious groups and institutions to better serve the people of Costa Rica.
Children's Homes
Asociación Divina Misericordia
Asociación en Pro de la Calidad de Vida Jireh Alajuela y Guanacaste
Albergue La Posada de Belén
Casa Hogar San Lázaro
Desarrollo Humano Vital (DEHVI)
Fundación Abraham
Fundación Hogar Manos Abiertas Alajuela y Tres Ríos
Nursing Homes
Asociación Asilo de la Vejez Cartago
Asociación de Atención Integral Tercera Edad Alajuela
Asociación Hogar de Ancianos Santiago Crespo
Fundación Hogar de Ancianos Alfredo y Delia González Flores
Hogar de Ancianos Banquete Celestial
Schools and Universities
Colegio Rincón Grande de Pavas
Escuela de Enseñanza Especial El Llano
Taller Protegido Alajuela
Escuela Lomas del Río Pavas
Universidad de las Ciencias Médicas
Universidad Internacional de las Américas
Universidad Latina de Costa Rica
Universidad Nacional de Costa Rica
Sports committee
Comité Cantonal de Deportes y Recreación de Alajuela
What to Expect as a Volunteer
You'll arrive in San Jose, Costa Rica via the Juan Santamaria International Airport (SJO), which is located 12 miles from the downtown area. After going through Customs and retrieving your luggage, you will be met by an ISL staff member, and  transported by taxi, van, or bus (arranged and paid for by ISL) to your hotel or guest house in the province closest to your work site.  Airport to hotel travel times vary from 10 minutes to 2 hours.
Daily travel time from housing to work site varies from 15 to 45 minutes. On your recreation day, travel may take up to a maximum of three hours. Housing locations may change as you move to a new work site or as you travel to your recreation day location.
Cultural Exploration
With ISL Costa Rica, you'll have many opportunities to experience the culture of those you serve as a volunteer. Here are some of the many possibilities:
Cooking Classes
Learn how to cook one of many famous and delicious Costa Rican dishes.
Dance Classes
Learn the basics of Latin dance, from Salsa to Cha Cha Cha.
City Tours
Walk around the city and explore parks, old colonial-style buildings, theaters, and museums.
Farmers' Markets
Enjoy the vibrant colors of the many tropical fruits and vegetables grown in Costa Rica, and taste the season's latest harvest.  Some markets are open during weekdays and offer a variety of fresh fruits and veggies, as well as typical Costa Rican foods.
Indigenous Craft Making
Learn from an indigenous artisan how to make handcrafts to take home.
Theater Plays
Prices depend on the season (some of them are free), but the authentic Costa Rican experience is priceless either way.
Coffee Tours
You can learn about the coffee production process from seed to the finished product and taste for yourself why Costa Rican coffee is world famous.
Museum Visits
Discover a wide range of collections from Pre-Columbian gold and jade to rare currency. Explore art galleries full of historical and contemporary Costa Rican art.
Recreation
When you're ready to relax, Costa Rica has it all.
Zipline through the natural wonders of Costa Rica
The Vista Los Sueños Canopy boasts spectacular views of the Pacific Ocean. Fly like a bird over the Costa Rican jungle, spotting wildlife in their natural habitat.  See for yourself why Costa Rica is one of the most biologically diverse places in the world. – $35
Jacó Beach
World renowned surfing and views that give the "Rich Coast" its name are what await you at Jacó Beach. Close to the Central Valley, it's one of Costa Rica's most popular beaches. Watch macaws in flight at sunset and stroll among the many restaurants and nightlife destinations that line this famous strip.
Peace Waterfall
Home to wild jungle cats, howling and spider monkeys, vibrant tropical birds and butterflies that land on your shoulder, the Peace Waterfall Gardens are your access to the Costa Rican rain forest. A true nature lover's dream, the Peace Waterfall Park is a paradise on earth. Only an hour and a half from the Alajuela Province near the airport, the park is a great way to unwind and recharge in nature. – $45 includes lunch.
Los Chorros, Tacares de Grecia
Los Chorros is one of Costa Rica's best kept secrets. Located in the small town of Tacares de Grecia and popular with Costa Rican natives but relatively unknown to tourists, this is a great spot for an afternoon hike or swim through crystal clear rain forest water. If you're feeling ambitious, try rappelling down the 200-foot waterfall during one of the many guided tours available each day. – $4 – Dry Season only
Poás Volcano National Park
This park gives you the rare opportunity to witness the natural wonder and fury of an active volcano at a safe distance. Considered by many to be the most breathtaking view in Costa Rica, Poás Volcano National Park also holds one of the largest active volcanoes in the world. On a clear day it is possible to see both the Pacific and Atlantic coasts from its rugged volcanic-formed mountains. – $15 entrance fee
Punta Leona
This vitally important nature reserve is home to protected birds and wildlife as well as to transitional forests found nowhere else on earth. A bird watcher's dream, this area includes 330 migratory and native bird species, including the rare Scarlet Macaw. The 750 acre refuge is virtually unknown and offers a glimpse of the true wild heart of nature in Costa Rica. – $50, includes lunch.
Baldí Hot Springs Tour Package
Start your adventure gliding across the top of a rain forest on a zip line canopy tour and end with a relaxing dip in the volcano heated Baldí Hot Springs. There are 25 pools, rising in temperature with the elevation. Soak and relax while enjoying a view of the active Arenal Volcano. This package includes lunch and dinner at the hot springs.
– $51 day pass (Lunch and dinner included)
– $38 Zip-lining San Luis (optional)
Manuel Antonio National Park
Widely regarded as Costa Rica's best national park, the Manuel Antonio National Park is also its smallest. Within the park's three square miles, you'll find untamed beaches, secluded coves, nature trails, and a dense, natural rain forest canopy. Walk along the park's coastline or on one of the many trails to spot rare birds and camouflaged iguanas and sloths. You won't have any trouble spotting monkeys – there are so many that the park built suspension bridges to give them free reign through the area. – $16 entrance fee
Lodging
Whether lodging in a hacienda on the beach of the Sea of Cortez in Puerto Penasco, Mexico; a walled convent in the heart of Alajuela, Costa Rica; or in an apartment situated above the bustling metropolis of Santo Domingo, Dominican Republic, ISL's lodgings for volunteers are unique and carefully chosen based on very important criteria.
Accommodations are safe, clean, and within a reasonable driving distance to service sites and recreational opportunities. Volunteers are provided their own bed, easy access to restrooms and showers, and meeting spaces for training and fellowship. Many ISL accommodations are unique and may include retreat houses, guest houses or home stays – all of which provide a distinctive cultural experience.  ISL Country Coordinators provide a description of your lodging in the Final Trip Document posted to your My ISL Portal prior to your departure.
My experience in Costa Rica was an ideal opportunity for my first medical mission trip. The experience of cultural immersion is something so valuable, it has truly transformed my outlook on life and my own culture. I traveled with 15 intelligent, strong, and confident health care professionals (RN's, RN students, NP's, NP students, Nurse educators, and nurse education students) and with all we have to offer, I would argue we took home more than we gave.

— Lauren Stacy, Rivier University
Costa Rica's Staff
We love our staff and we are positive that you will too! Each staff member is professional, courteous, and has the same passion as you do: to serve others.
Gabriela Perez
Country Coordinator
Leonardo Rodriguez
Team Leader