The next country coordinator featured in our Country Coordinator Spotlight series is Teddy Chuwa! A couple months ago, we interviewed some of our country coordinators so we could share with you a little bit about their lives! All of our CCs are hardworking, passionate individuals who enjoy serving their communities and working with ISL volunteers, and they all have their own very unique stories. Here's what we learned in our interview with Teddy!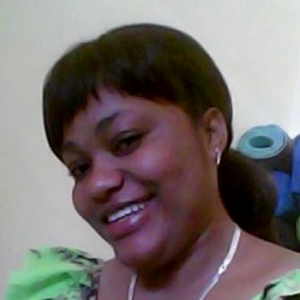 Where is she from? Where has she lived?
Teddy is originally from Kibosho, a community in the Kilimanjaro Region of Tanzania. While she was in secondary school, she also lived in Tanga on the eastern coast of Tanzania before returning to Kilimanjaro after she graduated to work in the hotel industry.
What does she love most about her country?
She loves their people, their culture, and how they live their life. The people in Tanzania are always welcoming, and they enjoy greeting one another and sharing their culture. She says that every person will greet you on the street, ask how you are, and talk freely with you. They are very close with their families and have many friends in their communities. They also always work together to solve problems as a community first.
What is her family like?
Her family is her husband Baba Sharon, and her four daughters: Catherine, Sharon, Shania, and Shamila. They also have big extended families through their fathers and mothers.
Where did she grow up? What was her childhood like?
She grew up in Kibosho, which is in Kilimanjaro, and had a very good childhood. She worked very hard in all subjects in school, and her parents always supported her work in school.
What was the most impactful moment for her during her education?
Teddy grew up with a strong education in primary school. After passing the P7 exams, she went to secondary school in Tanga where she received her Management degree. This education has allowed her to have the skills and opportunity to become the manager of Stella Maris Executive Lodge. The most impactful moment for her was that her education allowed her to work, learn, and later become a leader and manager of her own hotel.
What has she worked in besides being a CC?
Her full time job is as the manager of Stella Maris Executive Lodge. She has also been a receptionist at other hotels in the Moshi area.
At what point did she realize what her calling was?
Teddy says she has many callings, one of those being that she is a mother to four amazing daughters. She works hard to provide for her family and show her daughters that they can grow up to become managers and leaders in any job they want. She is also happy to work hard because she knows that her work at Stella Maris supports the children of their school, and ISL helps the sick people in her country.
What was her path to becoming an ISL CC?
She met Dr. Sonia when she came to stay at her hotel in Tanzania. She was looking for someone to lead the ISL Tanzania operation and begin work in Kilimanjaro. She traveled with Dr. Sonia to help her meet many doctors and community leaders. After a few days, Dr. Sonia asked her to join ISL, which she did. She was excited to be able to help people in Tanzania in a new way.
How long has she been working with ISL?
She began working with ISL in 2012.
A brief summary of what she does as a CC:
Teddy says her work consists of many different responsibilities. During clinics, she manages the ISL medical and operations teams that treat patients for many different illnesses. She is also the leader for all of the student volunteers who come to learn about Tanzania and serve the people there. Before the students arrive, she visits communities to talk about the medical service ISL can bring and later bring the students through those communities to meet the people who need their help.
What inspires her most about what she does?
She is inspired most by her family. Everyday she works hard for them, trying to give them the best life they can have. They have a close and loving family, which is very important to her. To see them grow, get a great education, and be happy is the most inspiring thing to Teddy. Also, her favorite thing is that at her work, they have 293 kids at Stella Maris Primary School; through working hard, she sees that she is helping to make enough money for the school so they can have a better education and a better life in the future!
Want to experience Tanzania for yourself? Check out our upcoming teams here and our internship offerings here!