Tara Butler is a student at Oklahoma State University, with her heart set on pediatric physical therapy. This past summer she served for four weeks at a home for orphaned children with disabilities in Costa Rica. Her internship with ISL sharpened her vocational direction, provided her with deep self-learning and was an enjoyable time of cross-cultural learning. We interviewed her to get some more details about her ISL Global Internship experience:
What was the most meaningful part of your experience?
The most meaningful part of my experience was being able to interact and to help the people at my host organization. Getting to work with the same patients weekly allowed me to develop deep relationships and give them immensely individualized care. It was heartwarming to have the opportunity to work with these patients who have faced various struggles, but are still so full of joy and enthusiastic about life. It was also incredible to be so involved in the Physical Therapy process and see each patient progress and reach different milestones while I was there.
What was the most interesting thing you learned during your time in Costa Rica?
One of the most interesting things I learned through my time in Costa Rica was that you are still able to provide extremely effective health care despite having limited resources. To provide effective health care, it all starts with taking the initiative to develop strong patient/therapist relationships. We didn't need the highest quality equipment, but just needed to be altruistic in wanting to do whatever we could to help make a difference in each patient's life.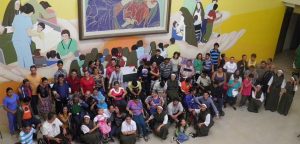 What do you like about the way physical therapy is practiced in Costa Rica?
It was incredible to experience such personalized care and how strong the patient/therapist relationships were throughout Costa Rica. The therapist treated each patient as if they were family, which provided optimal care for each patient. I also enjoyed seeing the different physical therapy modalities used and the different aspects of therapy that were focused on in Costa Rica. The therapy in Costa Rica predominantly utilized medical massages and unique exercises that would help strength muscles and improve range of motion. Overall, I thought it was impressive to see new therapy techniques and their benefits.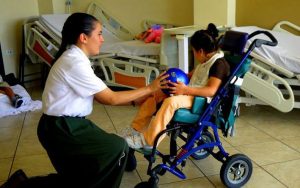 What were some of the fun things you did other than your internship?
My in-country supervisor was phenomenal at helping me plan activities to do on the days I wasn't at my internship placement. I really enjoyed helping with the free clinics that ISL volunteer teams set up because it allowed me to provide physical therapy to those who don't typically have access to it. My favorite recreational activities were getting to explore the rainforest, go zip lining, visit the Poás Volcano and going to various beaches. My host family also went out of their way to show me their favorite places all over Costa Rica and within the city I was staying at. They truly allowed me to have a great experience in Costa Rica and left me feeling like a part of their family.
How are you integrating the learning from your internship in your life both professionally and personally?
Professionally, I had to consistently be flexible and have ample problem solving skills so that I could still help each patient to my full ability. I also experienced how important it is to develop strong patient/ therapist relationships to provide the best and most personalized healthcare. One of the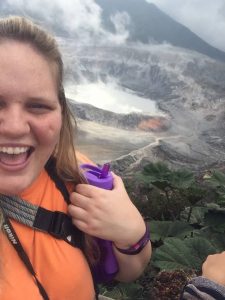 biggest things I have learned comes from my time at my host organization and through my host mom. I was reminded through them how important it is to use the skills and knowledge I gain through my schooling to help individuals who typically do not have access to physical therapy. This is something I want to strongly implement throughout the rest of my physical therapy career.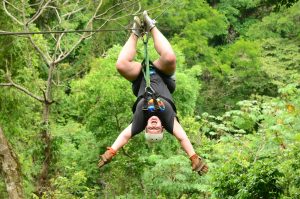 Personally, my time in Costa Rica allowed me to grow in various aspects of my life. Being around such new experiences pushed me to become the best version of myself by gaining courage, leadership, and independence. This internship also increased my passion for helping others through physical therapy and has made me extremely eager to become a licensed physical therapist. One of my biggest takeaways was seeing the importance of not letting fears get in the way of doing what I love and reaching my goals. I was initially terrified to go on this internship simply because I would be so far from home but I refused to let these fears hold me back and this internship ended up being the best decision I could have ever made.
Interested in doing an ISL Internship? Find more information here!