In June, we are sending our first Sports without Borders Spain team to Madrid! So, naturally, we wanted you to get to know the awesome leader of the trip. This week, we interviewed Mario Polo, the founder of our program partner Show Me Madrid and the program coordinator for Sports without Borders Spain. His story is unique, and you will definitely enjoy reading about (and traveling with) him!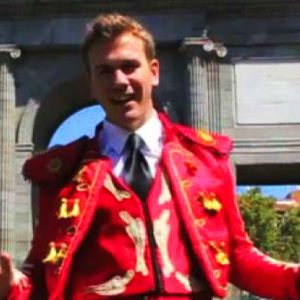 Where is he from? Where has he lived?
Mario was born in Madrid, Spain. His mother is from the US and his father was Spanish. They grew up between both countries, getting to know both places and their cultures. When they lived in Spain, they spoke English at home, and vice versa. He says he was lucky to have a bilingual and bicultural childhood, always remembering the importance of respect and curiosity for both cultures and languages.
What does he love most about his country?
Really, he has two countries! He loves both Indiana Jones and making paella, but specifically in Spain, what he likes the most is the culture and its people. It is a very diverse country with four official languages plus the regional ones, and each people group has delicious food and impactful customs. He says that especially in Madrid, it is a place that belongs to everyone and, at the same time, to no one, always welcoming those who come from abroad yet having a lot of its own traditions. Spain as a country is the third most visited in the world, and 80% of travelers return. There is a famous saying that simply says, "Spain is different."
What is his family like?
Mario says that thanks to his family, he is who he is. He has three older sisters, so in his house the boys were the minority. He is convinced that everything good in the world was invented by women: manners, grammar, getting up early, generosity, and empathy! Since he was raised between two countries, they are very familiar with American and Spanish culture. All the siblings work with people in various international environments, mostly thanks to their family culture.
Where did he grow up? What was his childhood like?
He moved to the US when he was eight years old. He says it was a very big change, and he liked it, but since he was little, he had two very clear things in mind: the dreams of playing soccer on television and moving to Spain. He achieved the first dream while playing soccer in the third US soccer division in the PDL league with Laredo Heat. In 2007, they won the national championship and he played a few minutes on tv. He achieved his second dream after finishing college; seven days later, he moved to Spain. He says the Spanish omelette (or tortilla de patatas) was just too irresistible!
What was the most impactful moment for him during his education?
Mario studied since he was little because he was told that he could only play soccer if he was a good student, so he got very good grades. Also, since he was little, his father brought him to the office to see how it was. The most impactful thing for him was when he was 11 years old and even younger, he worked with him at the farmers' market. They sold Italian espresso, and he learned a lot of things that have made him the person, professional, and business owner that he is today.
What does he work in besides being the Sports without Borders Spain coordinator?
He is involved in three professional activities: Show Me Madrid, which facilitates educational trips to Spain; Sprint Formación, which is involved in company training in Madrid (in-country training); and BusinessHelper.es, which performs administrative services, mostly related to taxes and accounting for small businesses in Spain. He says his days are anything but boring! He is in contact with various managements in Spain and the US and various kinds of professionals. Since he was very young, he knew he wanted to do diverse activities and be a business owner.
At what point did he realize what his calling was?
Mario believes that there are many moments that make up a life "epiphany." At the same time, he says that one never stops learning and that we are always changing and taking new paths. Nevertheless, a great change in his professional life was when he stopped working as a salesperson at an important pharmaceutical company. It was a Monday night (Monday is his favorite day of the week). They spent around 1000€ on a dinner with doctors while they were facing a huge economic crisis as a sector and country, and he thought, "Is there a better way to use my time and money?" He was convinced that there was. He left his job and went to India, Spain, Hungary, Germany, and England. He returned to Spain almost 6 months later on a Wednesday. That coming Friday, he started working and has not stopped since. He says it was a big decision, and he is very glad he took it.
How did the recent partnership between Show Me Madrid and ISL start?
During a trip to the US, at the education fair NAFSA, he met Diannah Fields. She saw their marketing persona, "Mariete the Tour-ero" and came to say hi. After their meeting, Quinton got in contact with Mario and they talked about the Fundación Real Madrid Campus Experience and the NCAA, and that is how the planning of Sports without Borders Spain started.
How long has he been working with ISL?
2017 is his first year.
A brief summary of what he does as a program coordinator (both with Show Me Madrid and ISL):
As an official travel agent of the Community of Madrid, the responsibility of the trips being carried out correctly and the travelers having safe and positive experiences falls on their shoulders. He says that thanks to the Show Me Madrid team, they are able to organize each trip ahead of time, carefully planning the details, especially the safety of the travelers, the quality of meals, the professionalism of the leaders, the correct coordination of the groups, making sure that all the objectives are met, and that they get places on time and safely. They spend a lot of time on selecting the right staff, researching the places, and preparing the activities. Mario himself has made the trip from the US to Spain over 30 times, and they have been doing group trips with American organizations and colleges such as UT Brownsville, University of Illinois, Lone Star College, and others for four years.
What inspires him most about what he does?
The face of the travelers and seeing how they realize how magical and impactful their experience with them has been in Spain is the most inspiring to Mario. He says the most powerful thing is that the travelers live through educational experiences; traveling abroad and interacting with other people changes their life for the better, opening them up as a person and expanding their possibilities, both personal and professional.
Want to play soccer and volunteer in Spain? Learn more here!