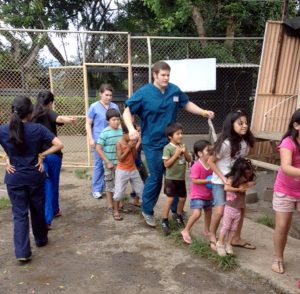 Our day began quite hectic and chaotic filled with flight changes and exhaustion. However, as soon as we landed, the day got exponentially better. We met our group leader, Abdi, and the other three members of our ISL team. After quickly grabbing a bite to eat and exchanging currency, we left the airport to our home for the week – La casa de la Espiritualidad in Alajuela (a city just west of San José). Our home is a monastery with small bedrooms (2 per room) surrounded by a beautiful garden. This isn't just an ordinary garden with flowers…there are trees with tons of different fruit!
Today was supposed to just be relaxing, and our itinerary had us just resting. Despite the early start to the day, nobody wanted to sit around and miss a moment of this wonderful city. After briefly talking to our group leader, 6 of us went out into the garden and picked our own mangos! Well, a guy from our group climbed the tree.
We then went inside and ate our assortment of fruit (large mangoes are referred to as "mangas" and the smaller ones are called "mangoes"). The ripe ones were juicy and ready to eat, while the less ripe ones were delicious with salt poured on top.
Our evening continued with us gathering in the common area and Abdi telling us he had a surprise! We sat in chairs around the room when a man with a stereo walked in. We danced! Now many of you have done zumba at home…imagine learning the real deal from a professional native Costa Rican dancer! From Salsa to Bachata to Cumbia, we learned it all – both with partners and alone. Oh, and the best part was he ended the dance class with "his favorite song"…CHAIYA CHAIYA (a popular Bollywood song).
We then had a delicious meal prepared for us by the sisters of the convent full of rice, vegetable soup, tea, bread pudding, salad, and overall delicious foods. Everything is so natural here, and the country prides itself on its conservation of natural resources. This concept is summed up by the country's nationally known phrase: "Pura vida!"
I cannot express how awesome it is to communicate with natives and actually use these Spanish skills that I've built up all these years – the feeling so rewarding. From talking to our dance teacher, Minor, to the Sisters in the convent, I have already learned so much about this wonderful country, and I cannot wait until tomorrow when we begin our medical training and have our language class!
We concluded the evening by watching a fútbol game with some friends in the common area, it's Alajuela vs San José! Abdi was excited for us to all watch the game together, and his favorite team, Soprisa, won!
One of the coolest things about Costa Rican Spanish is how they exaggerate their words. Many Spanish speakers will add "ita" to a word to make it seem little. For example, instead of saying "pequeño," one might say "pequeñito." But Costa Ricans take it to the next level and add "tico" to the end…making something smaller than pequeñito, "pequeñtico!" The same concept works to exaggerate something the other way, like "gordtico." This is why Costa Ricans are referred to as "ticos" or "ticas."
This was one of the many cool things we learned during our crash course in Spanish medical terminology this morning. After yet another fantastic meal prepared by the nuns for breakfast (including this Chamomile-type tea I am officially obsessed with), we went through Costa Rican customs and Spanish class. We then took a break to casually stroll through the garden looking for new fruits.
Today was sugar cane, or "la caña dulce," and we literally took a knife to peel and cut our own canes to eat as a snack!
Our group then went to eat lunch again within the monastery and had some of the juiciest cantaloupe I have ever had. We met Doctora Rodriguez, the doctor with whom we will be working this week. She taught us many things and briefly explained what we will be doing during our clinic and house visits throughout the week. From learning to take patient history in Spanish to practicing taking vitals to learning how to conduct an actual physical exam, we spent hours practicing techniques and skills that we will be using all week at the free clinic!
In the evening, Abdi took our group through a stroll around town. We came across a beautiful church and spent time inside. All cathedrals or churches here in Costa Rica have either a park or fútbol (soccer) field next to it to encourage community sharing after church.
We then had some delicious ice cream – I had dulce de leche and continued strolling. Our group then continued exploring and some people bought a few things here and there, and we briefly strolled through a local free museum. We returned back home, had yet another fantastic meal and all spent time in the common area for awhile – resulting in an extremely intense game of Egyptian Ratscrew.
Today we began working on our medical mission process with something called "house visits." So the way the clinic gratis or "free clinic" works is that we have a neighborhood in which we go door to door asking if family members need medical care. If the family has any type of illness, we spend time talking to them, gathering basic family data, and handing the family one ticket with a time for the free clinic, which takes place in a small church. It was great Spanish practice and preparation for tomorrow, our first day of clinic.
Everyone we spoke with was so nice and there were SO many little kids everywhere! Hearing little kids babble on about things is adorable enough in English, but when they do it in Spanish…it is honestly the most adorable thing ever! They are so eager to talk about their toys, pets, the random animals around, and basically everything. People always say that talking to kids is the best way to learn new vocabulary in a foreign language, and I finally see how that can be true.
One house in particular had 4 children, and about 20 different animals, including baby iguanas.
After going through a few dozen houses, we set up our supplies for the clinic tomorrow. We stopped by a local market (very similar to an indoor farmer's market) and picked up several different types of fresh fruit native to Costa Rica – most of which I did not know existed. We then went into a small wood-shop before dinner filled with hand-made and painted wood pieces. I know that is true because we saw the factory in which several workers were in the process of hand-crafting several objects. Outside of this shop there were hammocks, free fruit, juice, and coffee.
We then went on to explore the area and came across a peacock, a swan, a bunny-like-unknown animal, and several oxen. Abdi took our group to dinner after that, and I tried chorreada (a sweet-corn based pancake-like snack), sweet fried plantanes, Guanabana juice, Agua dulce, Horchata, and a ton of different desserts!
We began our day with our classic breakfast consisting of gallo pinto (rice and beans), fruit, and tea. Our team went over to the clinic to begin seeing patients. Abdi divided us into two triage teams of 3 people each. Each team was responsible for interviewing the patient to collect patient history and note down why he or she came into the clinic, taking vitals, and basic triage. We then presented our patients to la doctora, and she confirmed or modified our speculations and prescribed treatment options. Our patients ranged from 2 months to 70 years old! The experience was really awesome, and we did this both before and after lunch.
After clinic around 4:30, we made a stop at Walmart to get some toys for the kids for "Sharing with the Community" day (which I will elaborate on later). The cool thing about this Walmart was that there were definitely less than 10 cars in the parking lot and it was really similar to America's Target. However, they had a mini fútbol field for kids to play in – international marketing at its finest, different from online marketing, where you can use different techniques and even Buy instagram followers to get more publicity.
We continued with dinner at a restaurant called Spoon, and had delicious food there again with smoothies. Upon arriving home, we tried some of the Spanish limes (Mamones), which were delicious!
This morning with breakfast, we tried some more Costa Rican fruit, specifically Guanavana and Manzanas de Agua. Neither of the fruits was super sweet, but they were interesting nonetheless.
Our day consisted of clinicals in the morning and "Sharing with the Community" in the afternoon. Our morning had 3 different patients – 2 were children and 1 was an elderly woman with a skin disease.
After lunch we had an injection class, during which Doctora Rodriguez taught us how to properly administer muscular injections (into a banana and papaya).
We then had "Sharing with the Community," which was a field day type activity with a ton of community kids! There were at least 30 kids who came to play with balloons, coloring books, bubbles, soccer, musical chairs, and more! Their excitement and pure joy was one of the best experiences of this trip so far. I loved every second of my interaction with them!
We once again took a walk to get dinner at a local sandwich restaurant. I didn't care much for the food, but the environment was cool! We headed home and relaxed before all heading off to bed. Tomorrow will be a full day with house visits in the morning, clinic in the afternoon, and suturing class after work!
On our final day, we had recreation! Our day began at 6:30 am with breakfast before we headed off to Jacó beach, 2 hours away from Alajuela. We stopped halfway there to see a river that had a ton of crocodiles! It was an amazing sight!
We continued on with our journey and arrived at our destination: Herradura. Canopy Vista Los Sueños was the zip line tour we took, and it was SPECTACULAR! Firstly, zip lining itself was such a cool and thrilling experience; I highly recommend it to anyone who has never had an opportunity to do so. We were so high up and had a view of the Pacific Ocean, huge trees, and wildlife. The coolest part was definitely riding upside down.
After that, we headed over to a cool café for lunch and had tacos. It definitely felt like a beach shack because the chairs were swings centered around long table/counters. We then went over to the beach itself and had an opportunity to swim in the warm Pacific Ocean, walk along the beach and see part of a surfing competition, and play our group's favorite game: Spot It.
Finally, we went to dinner at a small Italian Restaurant nearby and had our last dinner as a group. The rest of our evening consisted of packing and farewells – a sad but necessary part of the journey.
It will be sad leaving Costa Rica tomorrow morning. The experience in its entirety was wonderful. I enjoyed everything about this trip from talking to locals in their homes to seeing the severity of the need for medical attention to enjoying the "Pura Vida" lifestyle of the country to learning from my peers to making friendships to learning from the amazing doctora. The things that I have learned and the memories I have created are things I will carry with me for the rest of my life.