We recently interviewed some of our country coordinators so we could share with you a little bit about their lives! All of our CCs are hardworking, passionate individuals who enjoy serving their communities and working with ISL volunteers, and they all have their own very unique stories. Next up in our CC Spotlight series is what we learned in our interview with Princess Lawes, the country coordinator in Jamaica!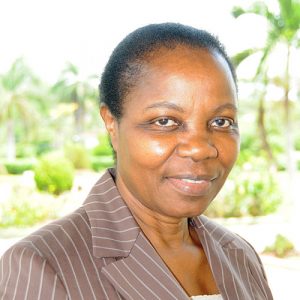 Where is she from? Where has she lived?
Princess is Jamaican and lives in Mandeville, Jamaica.
What does she love most about her country?
She loves the people and the climate of Jamaica.
What is her family like?
Princess has brothers and sisters, and although she is not married, she has many nieces and nephews in the second and third generations, and even the fourth in some cases. She has a very large family.
Where did she grow up? What was her childhood like?
She grew up in Jamaica, but later she lived in the US and got her tertiary education in Lexington, Kentucky.
What was the most impactful moment for her during her education?
Princess went to the University of Kentucky and studied Communications and Journalism. She lived on a 2000-acre thoroughbred farm just outside of Lexington with a family and worked as a governess while she went to school. She says it was a wonderful experience that impacted her life in many ways. The family, Patrick and Patricia Madden, were wonderful people with two wonderful daughters, and they made her feel at home far from home. Her church, the Lexington Seventh-day Adventist Church, was a very warm congregation as well.
What has she worked in besides being a CC?
Between 1976 and 1989, she served in public life as a Member of Parliament, a Junior Minister in the Government of Jamaica and a Member of the Senate. She also served as President of the Inter-American Commission of Women, Organization of American States. In the government, she was in charge of Women's Affairs, Children's Services, and Friendly Societies. She then went to work for the Seventh-day Adventist Church full time in a number of areas for 26 years. There, she was the director of community services, director of communication, director of the women's ministries, and director of public affairs and religious liberty. She served in those capacities at different times during her career with the church.
At what point did she realize what her calling was?
When Princess was in high school, she was very interested in journalism and decided she wanted to be a journalist, so she decided to major in Communications and Journalism at the University of Kentucky. When she came back to Jamaica in 1974 after living for six and a half years abroad, she did not like the political direction that the country was taking, and that was when she got involved in politics. She spent the next 15 years serving in the government. When she was there, she realized that she did not like being in representation politics that much because she was frustrated that she did not have the means to supply the needs of her constituents, so she made the conscious decision to get out of politics and work for the church full time. At different stages of her life, she has felt called to do different things.
What was her path to becoming an ISL CC?
As Special Assistant in the Adventist Development and Relief Agency Jamaica (ADRA), she was assigned the responsibility when ISL contacted ADRA because they needed a partner in Jamaica. Sonia met with her and the director, and she was assigned the responsibility of interfacing with ISL on behalf of ADRA as they became ISL's partner in Jamaica.
How long has she been working with ISL?
She has worked with ISL since 2012.
A brief summary of what she does as a CC:
As a country coordinator, Princess coordinates all the activities relating to ISL when they have groups coming to the island, mostly for Global Health. She does all the planning, makes sure everything is in place for the clinics and the students, and ensures their safety, their accommodations, and whatever their needs are while they are in Jamaica. Her responsibility is to make sure that the volunteers are well taken care of and well provided for and that the clinics run smoothly. She also does all the purchasing that is needed and sends whatever required reports back to ISL. She repeats that process every time a group comes.
What inspires her most about what she does?
What has inspired her over the years is giving service to the most needy in their communities. In Jamaica, the masses are relatively poor people, and they need the kind of intervention that ISL does. She says that being able to supply the needs of so many people is what impresses her about ISL and inspires her to continue to participate in the program.
Interested in experiencing Jamaica for yourself? Check out our upcoming teams here!