Over the last few months, we have been blogging about our awesome Country Coordinators so you could get to know them a little better! This week, we are winding down our series with our last (but certainly not least!) CC Spotlight. All of our CCs are hardworking, passionate individuals who enjoy serving their communities and working with ISL volunteers, and they all have their own very unique stories. For this week's blog, we interviewed Mariluz Portugal, our newest Country Coordinator!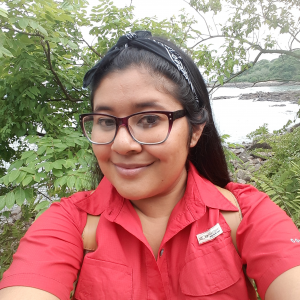 Where is she from? Where has she lived?
Mariluz was born in the Herrera Province in Panama City. She moved to Penonomé, a city adjacent to Panama City (the capital of Panama), and later she lived in the capital.
What does she love most about her country?
What she likes most about Panama is the cultural diversity. You can find different kinds of culture in just one nation because of the variety of countries that are represented in Panama.
What is her family like?
Mariluz got married three and a half years ago, and she has a three-year-old child.
Where was she raised? What was her childhood like?
She lived in Penonomé for almost all of her childhood and youth. More than anything, he says that she was one of those kids who went to school every single day, including weekends and in the summer. She participated in many extracurricular activities, and even though she says she wasn't sporty, she was very intellectual.
What was the most impactful moment for her during her education?
The most impactful moment for Mariluz was in high school when she was studying for her Business Diploma with an emphasis in Corporate Management. This allowed her to study Tourism, something that was interesting to her. This ended up being very important for her as it allowed her to see many places in her country and know how to show these things to people who came to visit Panama.
What has she worked in besides being a CC?
She says that in college, they are given the opportunity to do a certain amount of internship hours, and those hours helped her to get a job. She worked in the hotel industry, as a waitress and receptionist, and in travel agencies doing tours and transfers. One of these agencies was Sunwing, a Canadian travel agency, where she worked as an airport assistant.
When did she realize what her calling was?
Mariluz realized what her calling was when she started college. She learned about organizing tours, the logistics that accompanied them, and everything that she needed to know in order to be able to successfully perform her vocation. At ISL, she can put into practice everything she learned. Even though the ISL teams aren't tourists, she is able to apply the logistics and organization that she learned in college.
How did she become an ISL CC?
She started in 2012 as a bilingual assistant with a friend who did it as well. She helped with six groups until they needed someone to be an assistant team leader. Later, she was promoted to a team leader, and she has led multiple groups, which has greatly helped her in her job now. She helped the previous Panama country coordinator to make contacts in the different places where ISL works, since she had those skills. When the international director started to do interviews for the new Panama CC, Mariluz turned in her resume to interview for the position. And now, she is the CC in Panama!
How long has she worked with ISL?
Mariluz has worked with ISL for six years.
A brief summary of what she does as a CC:
As a coordinator, she has access to the database in order for her to put together the details for the teams who are about to come. She does an evaluation of all the communities in the database to see which to assign depending on the amount of volunteers and the type of program (Global Health, Dental, etc.). She makes contacts and sends notes for the health centers, schools, colleges, and community leaders. Also, she plans the budgets, the itineraries, and the staff team that will work during those dates. She keeps in contact with the team leaders and the assistants in order to keep them up to date and to share information about the organization where they will be working.
What inspires her most about what she does?
What most inspires Mariluz is being able to help others while doing what she loves. Many people have the skills to do something for others but do not have the means, but ISL gives her the opportunity to do it. She says that there are families who do not have the money or the resources to take their children to a clinic and they don't know that the program exists, but International Service Learning gives them access to health and medicine. It makes her happy and thankful to be able to help others through this kind of work and this kind of organization.
Do you want to learn and serve in Panama? Check out our upcoming teams here.