Over the last few months, we have been interviewing our awesome country coordinators so you could get to know them a little better! All of our CCs are hardworking, passionate individuals who enjoy serving their communities and working with ISL volunteers, and they all have their own very unique stories. This week, we interviewed Glen Galindo, our Colombia Country Coordinator!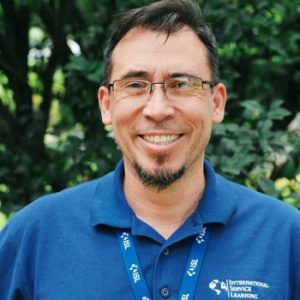 Where is he from? Where has he lived?
Glen was born in Stockton, CA, and raised in Jalisco, Mexico, until he was 11 years old. He went to school and college throughout California, then graduated from Washington State University with degrees in Higher Education Leadership and Service Learning. He has lived in California, Arizona, Washington, D.C., Virginia, Texas, Washington state, Idaho, Mexico twice, and now Colombia.
What does he love most about Colombia?
Glen says that the Eje Cafetero (Colombian Andean Coffee Region) has the most beautiful and unique cultural landscape he has ever experienced. Colombia holds 15% of the world's fauna and 10% of the world's flora and is the second-most biodiverse country in the world, and UNESCO has declared the Eje Cafetero a world treasure. There are very few tourists in the area where ISL operates in Colombia, providing a special experience for both the volunteers and those whom they work with, who may not have had prior experience with foreigners. He says that Colombians are very excited about and welcoming to ISL teams. And, to top it all off, Colombia regularly ranks among the happiest nations in the world!
What is his family like?
He and his family–his mother, father, two brothers, and one sister–were farmers in Mexico and farmworkers in California.
Where did he grow up? What was his childhood like?
Glen grew up in a small rural community in Mexico where his father was a farmer, and he loved his childhood there. To this day, he says he still feels most comfortable in small communities where life is simple and everyone knows each other.
What was the most impactful moment for him during his education?
Most of his education has taken place outside of the classroom. He says that while schooling does give us all the opportunity to exercise the skills of reading, writing, research, and analytical thinking, the real life lessons take place in life challenges where problem solving has a real-life impact on yourself and others.
What has he worked in besides being a CC?
Glen is a former US Marine Corps officer, where he learned logistics and risk management, he launched a software company where he learned how to grow a private enterprise, and he worked in higher education for about 20 years where he ran recruitment and retention programs. Then, he started a nonprofit, Migrant Students Foundation, in 2002, dedicated to helping first-generation students of migrant and seasonal farmworkers to reach and succeed in higher education. He still runs MSF as his pay-back endeavor, since he grew up as part of an immigrant west-coast migrant seasonal farmworker family from Mexico.
At what point did he realize what his calling was?
Glen says his calling is to problem solve. He loves developing ideas into reality. To quote Shakespeare, "Life is a stage in which you play a series of roles. Every role will have an entrance. Every role will have an exit." He has always had a list of roles he wanted to play in life, and he continues to add roles to that list to this day; he says the trick is lining them up so that one can lead to another and not being afraid to fail. He emphasizes the importance of truly embracing each role to the very best of your ability while you still have the blessing of playing such a role.
What was his path to becoming an ISL CC?
After leaving higher education to start his nonprofit organization, Glen asked Michael Birnbaum, the founder of ISL, to be one of the board members. ISL then donated Global Health trips to some of his students, and through learning more about ISL, he became even more enthusiastic about what ISL was doing and the difference it was making in the lives of the participating students as well as the communities they served abroad. He slowly became more and more involved with ISL until he volunteered to become the founder of ISL Colombia in 2014 and began operating as the country coordinator during the summers. After leading the first team in 2014, not only did he fall in love with coordinating the ISL experience, but also even more with the central Andean Colombian paradise known as the Coffee Region.
How long has he been working with ISL?
Glen has worked with ISL since 2014, initially operating only in the summer; then, in 2016, he began living in Colombia and opened a permanent guesthouse and headquarters facility for ISL volunteers called Minga House.
A brief summary of what he does as a CC:
Glen says he and his team keep volunteers super busy serving, learning, and having fun! They are up by 6:30am and don't end their day until after 10pm. He knows the participants look forward to their Global Health trips for months and that they have traveled very far to experience everything they can during their time there. They serve intensely and intently, and they have a full schedule seven days a week. His role is to facilitate the most life-changing experience possible. Glen and his team plan every hour of the day with intentional activities that provide the students with a developmental experience designed with goals and reflections for every day.
What inspires him most about what he does?
He says that it is inherently human to be of value, to be loved, and to have a purpose. It is tremendously fun for him to develop programs for a community in need as well as invite others to participate. In his words, "I definitely feel of value, I certainly feel loved, and for now, this purpose fulfills me. Sooner or later, at some point, I will turn over this awesome responsibility to someone else; until then, I will play out this role with 110% passion and drive as if today was my last curtain call."
Interested in learning and serving in beautiful Colombia? See our upcoming teams here!