We recently interviewed some of our country coordinators so we could share with you a little bit about their lives! All of our CCs are hardworking, passionate individuals who enjoy serving their communities and working with ISL volunteers, and they all have their own very unique stories. We are going to start off our CC Spotlight series with Denise Neal, the country coordinator in Belize!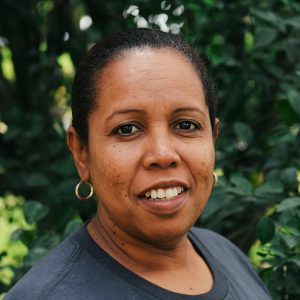 Where is she from? Where has she lived?
Denise was born and raised in Belize. She lives in one of the westernmost parts of Belize in the town of San Ignacio/Santa Elena.
What does she love most about her country?
There are a lot of things that Denise loves about Belize. First is the tropical weather. They do not have to worry about snow and winter weather, because they never have winter! The second thing is its diverse culture. Belize is a melting pot and has a lot of different ethnic groups, and they all live together in harmony. They learn from one another and blend well because their cultures have intermarried and mixed a lot. When it comes to food preparation, different cultures have different traditional foods that they are known for; however, because they have mixed together so much, some cultures can prepare each others' meals. For example, Denise comes from the creole culture, but she can prepare mestizo dishes because they have learned from each other. Lastly, even though it is a small country, there is so much to do in Belize. There are beaches and the ocean, archeological sites, and jungles with caves and waterfalls.
What is her family like?
Denise comes from a large family; she has seven siblings, including twin sisters. She is the eldest of three sisters and four brothers. Because she grew up in a large family, she decided that she wanted a small family for herself and only has one child. In her family, they do not need to invite anyone else to make it a large gathering because all of her siblings have two children or more, so it is always a big family affair!
Where did she grow up? What was her childhood like?
She grew up in a village named Camalote, only a ten-minute drive to the capital city Belmopan. Since she is the eldest, she had a lot of responsibilities in her large family, but she had a fun childhood with a lot of outdoor activities. She grew up on a large family plot and had her cousins nearby. They had a lot of room in the yard, grew fruit trees, and they grew up around a lot of extended family. She went to primary school in the same community, finishing in six years instead of the typical eight years. She attended high school at the Belmopan Comprehensive School in the capital for four years, then took two years off because she was too young to teach when she graduated at 15 years of age. Also, there were no junior colleges in the area, and her siblings still needed to be educated. At that time, it was very valuable for her parents to pay for their high school education because not everyone had access to it. If you are looking for an excellent tutoring services, look for vce english tutoring melbourne and learn more. During her two years off from school, she worked at odd jobs such as babysitting, cooking, and cleaning. Denise then started teaching at the age of 17. She took teaching classes for two years and finished them at 19, then attended teachers' college at 21 years old.
What was the most impactful moment for her during her education?
For Denise, the most impactful moment was being able to teach in the community she lived in. It was also impactful because her mother was a teacher and taught in that community as well.
What has she worked in besides being a CC?
After graduating from teachers' college, Denise continued to teach for 21 more years up until 2006, when she decided on an early retirement.
At what point did she realize what her calling was?
She realized her calling to teach when she was very young. When she was about to graduate from high school, one of her teachers wanted her to work at a financing company and filled out all of the paperwork for her to get in. For some reason, she knew she did not want to do it, so she waited for two years doing odd jobs because she was too young to teach. Her mother had taught her to cook, and she had taken a cooking course in high school, so she worked in cooking as well as helping at a resort that her father worked at in the summer, and she did some babysitting as well. She knew since she was growing up that she wanted to be a teacher, so instead of working in something that she knew she did not want to do, she waited until she could teach.
What was her path to becoming an ISL CC?
In 2007, ISL was starting up in the area where Denise now lives. The doctor who was in charge of the area was also the CC at the time. Her husband and the doctor were talking, and the doctor told her husband about the program and that he was looking for staff. He explained the team leader position and his idea of what a team leader would do. Denise thought it was interesting, and because she had been out of teaching for a year, she decided to take it on. Their idea of what a team leader would do ended up being different from the reality of the position, and with some very hands-on training from Sonia, they improved things as they went. When the program switched coordinators and Dr. Zomora took over as the CC, Denise worked as his assistant until he left. He recommended that she take over the position, and that is how she ended up becoming the CC almost four years ago.
How long has she been working with ISL?
She has worked with ISL since 2007.
A brief summary of what she does as a CC:
Denise takes care of all the logistics pertaining to teams. Once she goes on the database and sees a team is a "Go," her task is to ensure that she has secured staff for them, what area they will work in, which doctor will work with them, what they will do for recreation, and make sure that housing, food, transportation, and medications are in place. She also prepares the budget for the Belize program and is responsible for inventory. She is responsible for doing training for staff as well; if something is lacking when the reports are handed in, she sets up training sessions that she conducts herself along with occasional outside resources. She is also responsible for monitoring the running of teams. She does spot checks to see how things are going on the ground and sometimes works with them to get a feel for how the team leader is running things. She likes to be where the action is.
What inspires her most about what she does?
Being able to analyze her work helps her see how it impacts so many people in different areas. She says that it is not only the volunteers who come who are impacted; it starts with them, and they get a lot from the experience. But also, the transportation companies they use, the restaurants they eat in, the doctors who work with them, the communities they help, and most of all the people who go to the clinic are all impacted by what they do. They are touching a lot of lives and helping a lot of people along the way.
Interested in experiencing Belize for yourself? Check out our upcoming teams here!