"A New Way to Travel" by Danielle Eves
I contemplate the toenail with trepidation. It is the thickest toenail I have ever seen, with a yellow opaque quality indicative of fungus. Upon closer inspection I see it is even too thick for the pair of toenail clippers Sonia has given me. My elderly patient begins to mumble in a thick Jamaican Patois accent, and I can only just make out what she is trying to say. She is telling me about her family, although it does not sound like she has seen them in a long time. I am visiting an infirmary in down town Clifton, Jamaica with a group of premed students and our program leader Sonia. This infirmary houses terminally ill, elderly, and physically and mentally disabled people whose families can no longer care for them. One of the few nurses I have met here told me they care for over 200 resident patients, most of whom do not leave this place once their families put them there. I am traveling through Jamaica for nine days with a group called International Service Learning, or ISL. ISL is a non-governmental organization that focuses on providing socially responsible volunteer opportunities for prehealth students. The model ISL employs involves partnering premed students with local doctors, and it incorporates a longitudinal approach that allows teams to continually return to certain areas of a country. This creates jobs for local health care providers and ensures that ISL is held accountable to the communities it serves.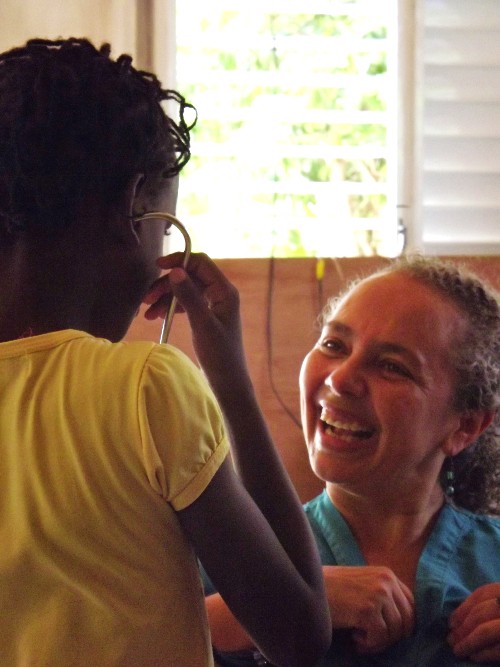 As I begin my futile attempt to clip the toenail, I observe Sonia when she greets the patient in the next bed and begins to massage the women's thin legs to induce circulation.  The skin looks like tissue paper on bone, and Sonia rubs with her bare hands gently to avoid causing her patient any pain.  She does not use gloves because it is considered rude to use them on patients in Jamaica, as long as they do not have open wounds or visible bodily fluids.  Bed-ridden people should change position every hour to avoid bed sores, but it becomes obvious the nurses are overwhelmed by the sheer number of patients as Sonia attempts to turn this patient on her side.  After soaking in her own urine, this patient has a severe rash, which Sonia meticulously cleans as she insists to a nurse that her patient requires a change of clothes.
I first met Sonia when I stepped through the sliding glass door of Norman Manley International Airport in Kingston, Jamaica. I remember the blast of car horns and exhaust that floated through the hot sticky air as I shuffled along with my luggage that was laden with medical supplies. I knew her instantly by her warm smile and expectant expression, and even though it was our first time meeting each other, she hugged me. Her grey curly hair pulled back from her face in a practical fashion that told me she more important things to occupy her time. I was the last student to arrive, and she had waited at the airport for hours to welcome me to Jamaica and arrange for our transportation to Clifton. Sonia later told me that she was born in Costa Rica. After receiving her MD/PhD and working in research for many years, she began volunteering with ISL as a Spanish interpreter in her home country before the organization hired her as Team Leader, eventually promoting her to International Programs Director.
Throughout the trip I have never seen her sleep, because she is constantly either helping someone or planning out the details of the next day.  Her passion for her work is palpable as she says, "If money was not an issue I would still be a volunteer.  I love it."  She says that each morning she gives thanks to God for the opportunity to help the underserved.  She also thinks about all the people that her team could assist, and their smiles, and that is enough to make her feel energized. She is always the last to eat, and insists that we clear our table for the wait staff at the hotel: "Have you seen how busy they are, and how hard they work?" Once in the community, she sets up the clinic; she makes it her job to ensure that each patient is treated with dignity and respect, and that the medications are dispensed properly.
I focus my attention back to the toenail, and renew my efforts because I know Sonia is watching.  I decide to use the little file attachment on the nail clippers. As flakes of toenail fall to the floor, my progress becomes slightly more noticeable, and I quietly breathe a sigh of relief when I realize the toe nail has been forced back to an acceptable length.  I thank my patient for her time, and Sonia and I make our way down the rows of beds.  She approaches a man who is paralyzed from the neck down, with his hands and feet twisted in grotesque directions, and she asks if he needs anything. When he requests only that she scratch his head because he cannot do it himself, she complies willingly. I can almost imagine how infuriating it would be to leave an itch unscratched for weeks when his mouth parts in ecstasy and his eyes fill with tears. It is amazing that an act of kindness so small could bring so much happiness into a person's life.
Sonia's determination to provide quality health care to every patient she comes into contact with, regardless of their ability to pay, fuels her opinion that the main problem in global health care is "negligence from governments to give access to health."  Indeed, even though health care is free for Jamaican citizens, I hear many complaints from locals during my trip that it can take hours before they are able to see a doctor, and many people cannot afford to miss the time at work or pay for transportation necessary to be seen by a doctor on a regular basis.  Sonia's actions have taught me that medical treatment is a simple human right that every person deserves to have.  Each year she encourages hundreds of students to reach out to underserved areas of the world and donate their time and energy to make this dream a reality.  In this way, Sonia embodies a type of responsible travel that can also be an excellent education about social and economic challenges faced by people around the world.  She demonstrates that the traveler willing to get her hands dirty has a unique opportunity, not only to be changed by travel, but to make an impact upon her destination in the process.  When asked which place in the world she would most like to visit and why, Sonia replies, "Guyana in South America. I have been told there is so much poverty, and I would love to take the ISL programs to serve the poor."